FieldVision Management Console
The FieldVision Management Console is a desktop application that runs on Microsoft Windows. It is the perfect compliment to the mobile app for organizations that have a lot of properties or do a high volume of work and need a desktop application to setup and manage FieldVision. The management console is very flexible and does not require you to change your business processes. You can use as many or as few features as you want.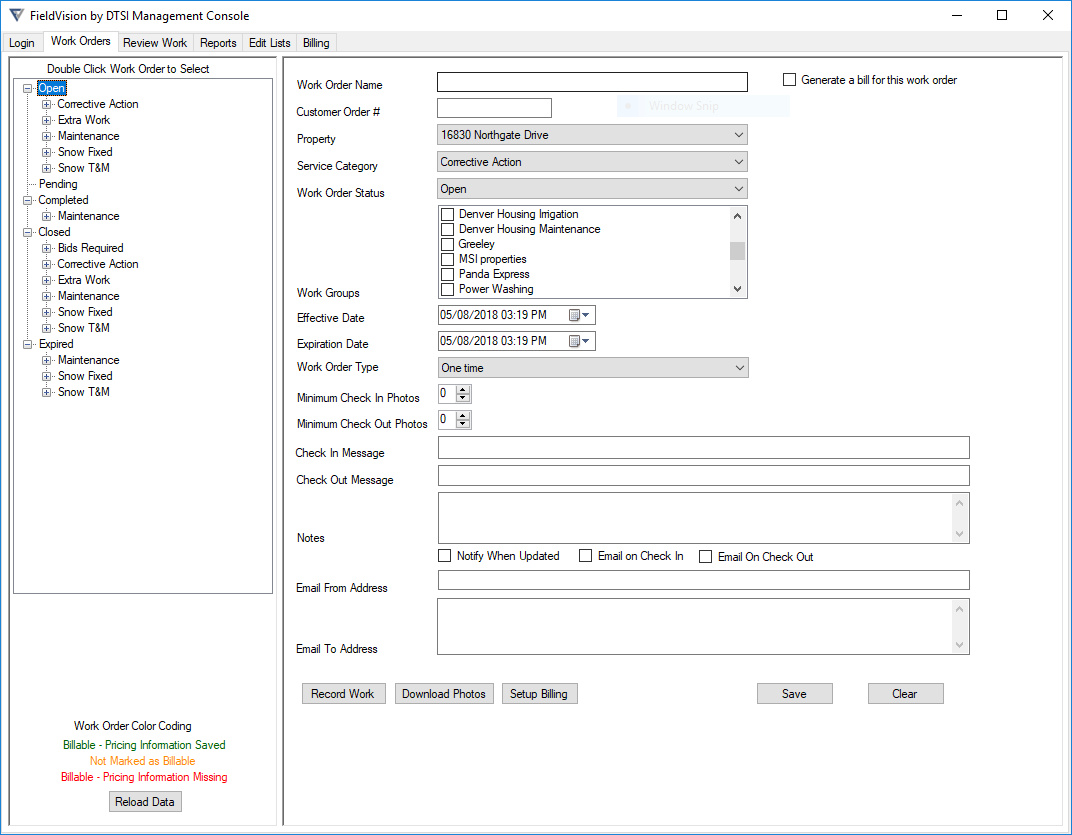 Manage work orders from your Windows Desktop.
Work order management
With the management console, you don't have to enter FieldVision information on the mobile app. All of your property, work group and work order information can be managed from your desktop computer. The management console also provides additional features not available in the mobile app. Features such as email notifications when work is completed, the ability to group work orders by customer and the ability to group users by vendor are available only through the management console. Customer pricing and vendor payment information can also be entered from the management console.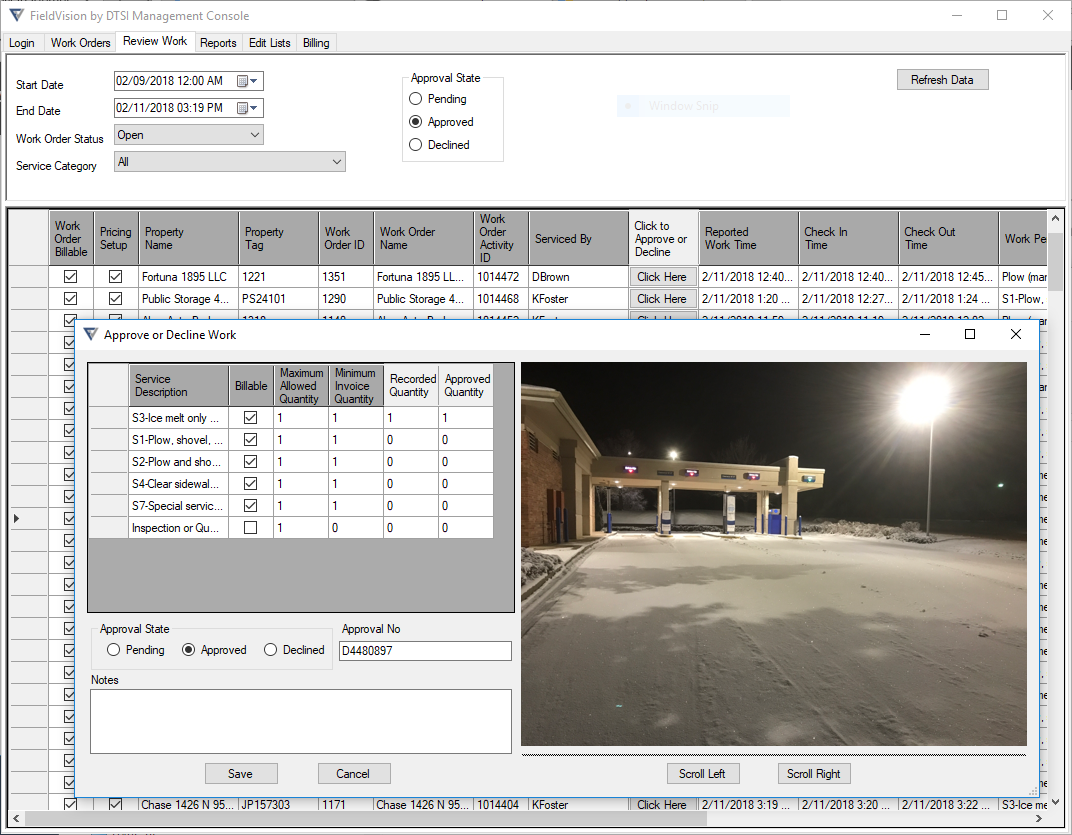 Review the work that field crews are doing.
Review Work
The review work queue is very cool. Click on any recorded work activity and see the work that was recorded along with all photos of that work. We call it FieldVision for a reason. You can see whats going on on your properties. If your business needs to approve or decline work you can do it here and add an optional approval code. The approval state can be used to generate reports.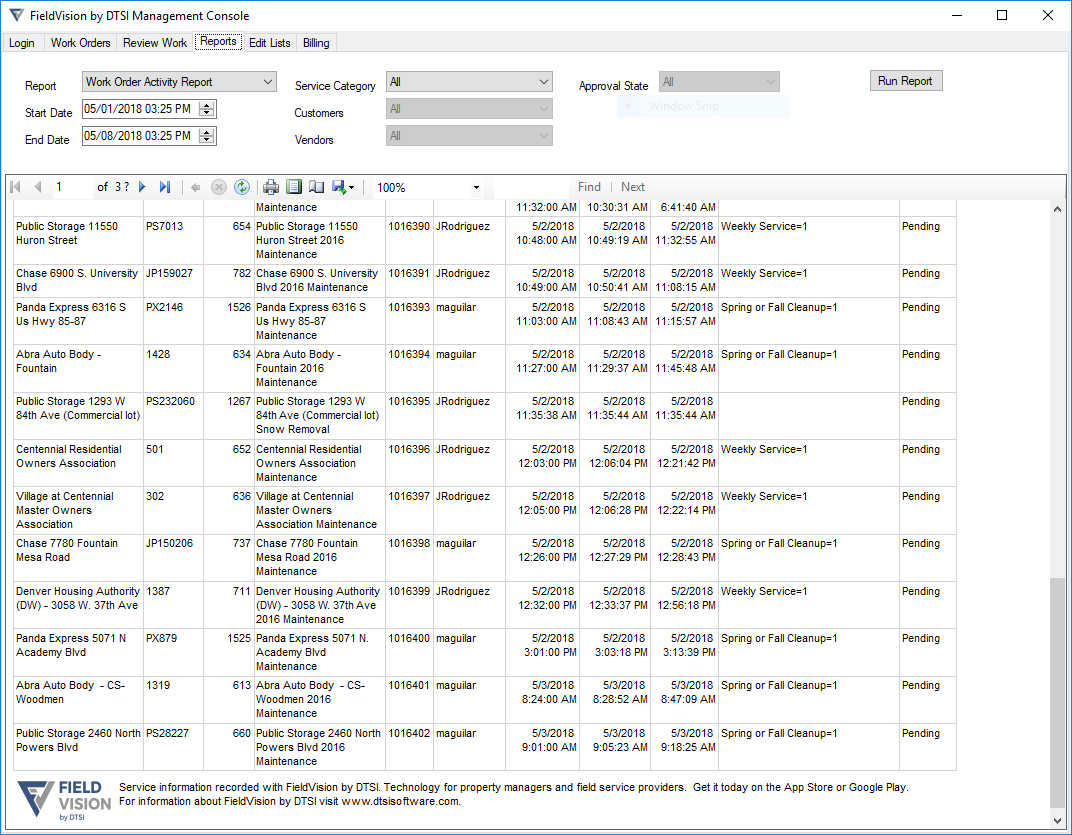 A powerful report generator for quick reports.
Generate reports
A powerful report generator lets you generate reports on a wide variety of criteria. You can generate reports by Service Category, by Customer, by Vendor and by the Approval State of the work. This feature is perfect for customers or vendors who need service reports for billing and invoicing. Reports can be generated in Excel, PDF or Word formats.
GENERATE INVOICES
For those businesses in need of high volume invoice generation, the FieldVision Management console has you covered. The management console integrates with Quickbooks Online and QuickBooks Desktop and will generate invoices from work recorded in FieldVision. The Work Order setup and Review Work processes ensure that only valid work is invoiced and sent to QuickBooks. If you don't use QuickBooks, ask us how we can integrate with your existing system!
To use the FieldVision Management Console you need an active Small Business Plus Plan or Enterprise subscription. Contact us today to get started with the FieldVision Management Console.